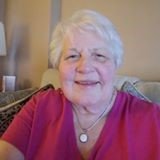 Patricia B. Dugan
Patricia B. Dugan
August 17, 1943 – April 26, 2019

Retired after a twenty-five year Neonatal Intensive Care Nurse in St. Christopher's Hospital in Philadelphia, Pat has passed on at the age of 75 after a prolonged illness.
Pat is preceded in death by her father Louis H. Percy and her mother Kathryn McCarthy Percy. She is survived by her son Eugene Dugan of Roxborough and her sister Lois H. Kennedy of Oldwick, NJ. as well as many extended family members and friends.
Following graduation from Roxborough High School, Pat began her working career in administrative capacities. Her passion for nursing was born following the birth of her son. Pat pursued her nursing education with her typical strong willed commitment at Roxborough Memorial Hospital School of Nursing where she finished first in her class. She enjoyed a career of self-fulfillment and satisfaction at St. Christopher's. Many of her colleagues at St. Christopher's praise Pat on her nursing competency, her knowledge of state of the art treatments/approaches, and thoughtful decision-making. Pat had an unwavering commitment for doing what was best for the young patients and their families as patient care was of primary importance to her. Patients that had the good fortune of being in her care are enjoying productive lives today as a result. As a mentor to other NICU nurses, her spirit lives on in the practice of nursing.
As a mother of a child with Autism, Pat was an advocate for improving the quality of life of individuals with Autism Spectrum Disorders and their families. She actively supported the Center For Autism in Philadelphia with the goal to expand the inclusion of individuals on the Autism Spectrum into the community. It was her passion to educate people in understanding the disorder therefore enhancing the diagnosis, treatment and services for individuals with Autism Spectrum Disorder.
Celebration of life services will be held this Saturday, 9-10:30 am, at Fitzpatrick Funeral Home located at 425 Lyceum Ave, Philadelphia, PA, followed by interment of her ashes at Holy Sepulchre Cemetery, 3301 W Cheltenham Ave, Philadelphia, PA.
In lieu of flower, donations should be made to the Center For Autism, 3905 W Ford Rd #6, Philadelphia, PA 19131. Phone: 215 878 3400.