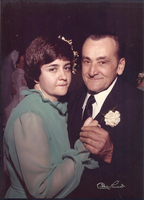 Dorothy Helen Hillanbrand
Hillanbrand
Dorothy H. Hillanbrand passed away on Friday November 26, 2021 at age 70 after a two year long struggle with Lewy Body Dementia and Parkinson's Disease. Her life was one dedicated to a career in banking for over forty years and selflessly caring for her family, no matter the cost or strain. She was a proud supporter and a 1969 graduate of John W. Hallahan, Catholic Girls High School. A mother beyond motherhood, she is survived by her niece and nephew, Lauren and Patrick, her sister-in-law and best friend Carol, and her brother James.
"I will not say: do not weep; for not all tears are evil." - J.R.R Tolkien
In lieu of flowers, please make a donation in Dorothy's name to either:
Lewy Body Dementia Assoc., 912 Killian Hill Road, SW., Liburn, Ga., 30047,
or The Michael J. Fox Foundation, P.O. Box 5014, Hagerstown, MD 21741-5014
would be appriciated by her family.