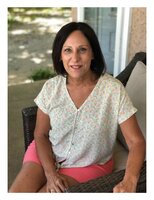 Cheryl Endrikat Perry
Perry
Cheryl (Endrikat) Perry, 64, passed away on June 21 surrounded by loving family.
Cheryl was the beloved wife of Al Perry, loving mother of Blake Perry (Peter Greco), Jordan Perry (Anastasia Traband) and Meredith (Michael) Bruno. She was the grandmother of Benson, Ellis, and Preston, sister of Fred (Karen) Endrikat and aunt to many nieces and nephews. She was a cherished friend to many.
Her family will be receiving relatives and friends on Saturday July 2, at 9:30 AM followed by a memorial service at 11 AM at Messiah United Methodist Church, 527 W. Ridge Pike, Lafayette Hill, PA.
In lieu of flowers, donations can be made in Cheryl's name to Unite for Her, 127 E. Chestnut St., 1st floor, West Chester, PA 19380.