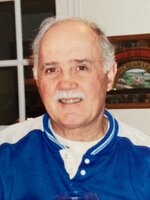 Alfred Joseph "Al" Antinucci
Antinucci
Alfred J., born January 6, 1936 died peacefully February 12, 2023. He was the son of the late Domicic and Mary (nee Tatoro) Antinucci.
Al was a Marine, a veteran, who served in the Korean War, he worked for the Fairmount Park as a stone mason. He was also on the Board of Directors for Journey's Way, (Interact's Older Adult Services division, offers a wide array of innovative resources to help older adults enrich their lives in their communities and in their homes, while supporting them through life's challenges.)
Al was the husband of the late Claire Tierney, Father of Richard "Rick" Antinucci (Madeleine), Donald Antinucci (Sue), the late Mary Jane Ferreri (Leo), Daniel, Suzanne Loizeaux (Steve), James (Michelle). Grandfather of Brad, Maddie, Laura, Jessica, Ricky, Sara, Emily, and Alayna, great grandfather of Brooks, and Blakely. Brother to John, Carl, and the late Dominic Antinucci.
Al loved his family, riding his bike, and shooting pool with his buddies at Journey's way, he will be missed by all who knew him.
Family and friends are invited to his viewing Tuesday 9 AM and to participate in his funeral service 11 AM at the Fitzpatrick Funeral Home, 425 Lyceum Avenue, Phila. Int. Private.
Donations in Al's name to Journey's Way, c/o Intercommunity Action, Attn: Development, 6012 Ridge Avenue, Philadelphia, PA 19128-1697